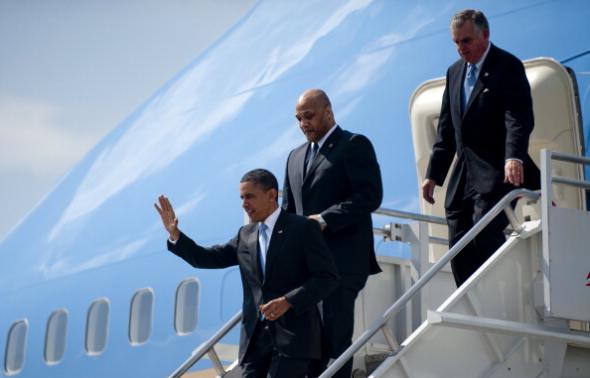 Politico is
reporting
that House Minority Leader Nancy Pelosi (D-CA) will appoint Indiana's U.S. Rep. Andre Carson (D) as the first Muslim member of the House Intelligence Committee. Pelosi reportedly told Democratic members of the appointment during a closed-door meeting this week. "The announcement comes in the wake of a terrorist attack in Paris by Islamic extremists that left 12 people dead," Politico reported. Some of the nation's most sensitive national security matters are shared with members of the respective, select intelligence committees in the House and Senate.
Carson touted his prior work at Indiana's Department of Homeland Security's Fusion Center during his first congressional bid following the death of his grandmother, the late U.S. Rep. Julia Carson. The administration of former Gov. Mitch Daniels transferred Carson from his normal duties as an excise police officer with the Alcohol & Tobacco Commission to the sensitive role to bolster his credentials for a future run for public office in anticipation of his grandmother's impending death from terminal cancer, a fact she withheld from voters when she ran for re-election in 2006. In that role, the younger Carson was required to spy on the activities of some of his fellow Muslims.
Carson was chosen by Democrats on a first ballot in a crowded caucus election conducted by state party officials in January 2008 that included several prominent local Democratic officials prior to the special election to replace his grandmother, which some political observers believe was rigged. Two electronic voting machines owned by the Marion Co. Clerk's office used to count the votes were reported stolen by a Democratic party worker hours after that caucus vote when a car in which they were being transported was broken into while parked outside a restaurant in Broad Ripple. Carson went on to defeat Republican Jon Elrod in that 2008 special election and has easily been re-elected in subsequent elections.
Carson's first election to Congress came only months after he was appointed to a seat on the Indianapolis City-County Council after this blog exclusively reported his predecessor, Patrice Abduallah (D), had claimed an uninhabitable vacant home in the district as his voting residence when he in fact resided in another home outside the district, a fact known by county election authorities for some time but ignored. Abduallah abruptly resigned from the council but was never charged with a crime like former Indiana Secretary of State Charlie White, who faced seven felony charges for casting a vote in a single election at a precinct outside his Fishers town council district. He was later forced to give up his office when he was convicted of six of seven of the vote fraud-related charges, three of which were recently overturned by the Court of Appeals. Carson was allowed to take Abduallah's place on the November ballot that year despite the deadline having passed for a replacement candidate.