The proverbial s_ _ _ hit the fan at tonight's Public Safety and Criminal Justice Committee of the Indianapolis City-County Council when the subject turned to Mayor Greg Ballard's
no-bid, $32 million lease agreement with Vision Fleet
, a completely untested, heretofore non-existent company until the administration entered into the corrupt, one-sided agreement with the company without consulting with the council. The criticism of the deal came from both sides of the political aisle. The harshest criticism came from Councilor Aaron Freeman (R), who lamented that a copy he obtained of the contract the city entered into with Vision Fleet was redacted more than a CIA report on the capture and killing of Osama bin Laden. Freeman crowed that even the contact person and address to which notices were be to addressed in the event of conflict was redcacted.
Freeman shared with committee members some quick searches he performed on the Internet that confirmed his worst of suspicions. Vision Fleet, a Delaware corporation, listed a registered office address in Venice, California. Freeman learned by searching Google Earth that its office address at 1600 Main Street was nothing more than a virtual office. The company registered to do business in Indiana, Vision Fleet, LLC, was not even registered with the Indiana Secretary of State until a month after the City of Indianapolis' Department of Public Works under former Director Lori Miser entered into the costly-long term contract with the company. It gets more interesting. The registered agent for the company in Indiana is Cleantech Systems Solutions, Inc. a for-profit company whose business address is 111 Monument Circle, Suite #1800, Indianapolis. That of course is the same address used by the Indy Partnership, a nonprofit economic development company funded by the City of Indianapolis.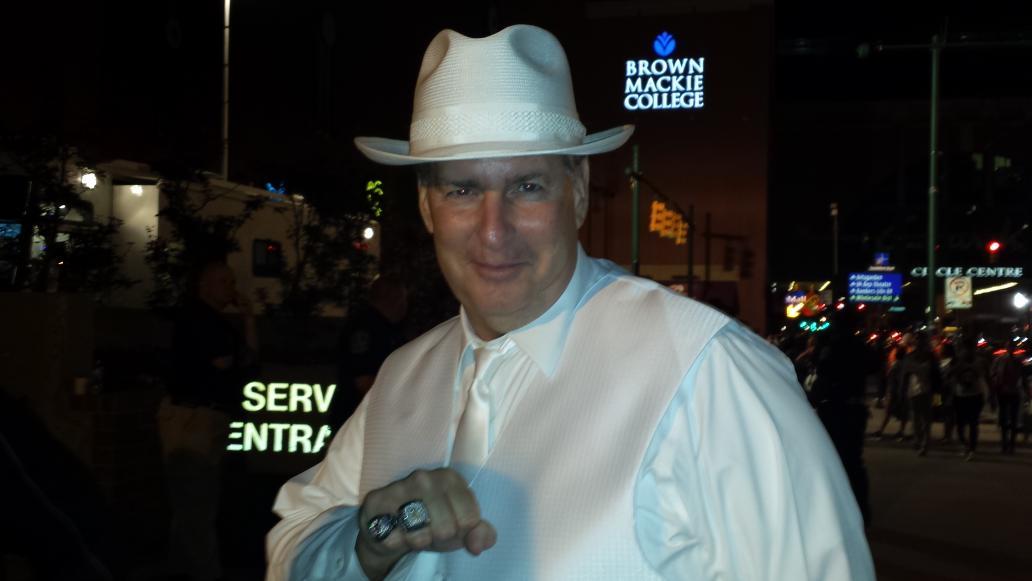 Hold on. It gets even more interesting. Who would you guess are the three incorporators of Cleantech Systems Solutions, Inc.? How about Hulman & Co.'s president Mark Miles. The name David L. Johnson also appears as an incorporator. He's the former Faegre Baker Daniels partner who is now the president of Central Indiana Corporate Partnership, another government-funded, non-profit economic development agency which shares offices at the same address. And finally, there's Paul Mitchell, former Gov. Mitch Daniels' policy director for economic development, workforce and energy who now serves as president of Energy Systems Network, a non-profit affiliate of the Central Indiana Corporate Partnership. Johnson and Daniels are among ESN's board members, which is a who's who of corporate insiders.
The council's CFO put the committee on notice that the interpretation of state procurement law by staff informs him that the no-bid contract was illegally entered into by the Ballard administration. Incredibly, the fork-tongued Corporation Counsel, Andrew Seiwert, argued with a straight face that it wasn't a lease of vehicles; rather, it was a service contract to perform fleet management services for the city as a justification for there not being a public bidding process. He defended the heavily- redacted contract released to the council, which clearly references leased vehicles, arguing that all of the redactions represented trade secrets. Hah! Where have we heard that lie before? Our state's Public Access Counselor claimed it was all kosher. At $75,000 per car, I wouldn't want the world to know just how shady my contract was either. Hopefully, other local governments around the country aren't as corrupt and unconcerned about costs as Indianapolis' city government.
Suffice it to say the committee members weren't at all satisfied with the smoke the Ballard administration folks were blowing their way at tonight's meeting. It voted to subpoena an unredacted version of the contract. Only the council's counsel, Fred Biesecker, has been allowed to view the full contract to date. He was only allowed to view it after signing a confidentiality, non-disclosure agreement. I don't know what it takes before our useless federal prosecutor in this town starts hauling these corrupt bastards before a grand jury and handing down indictments of these corrupt political insiders who are robbing us blind with these shady deals.