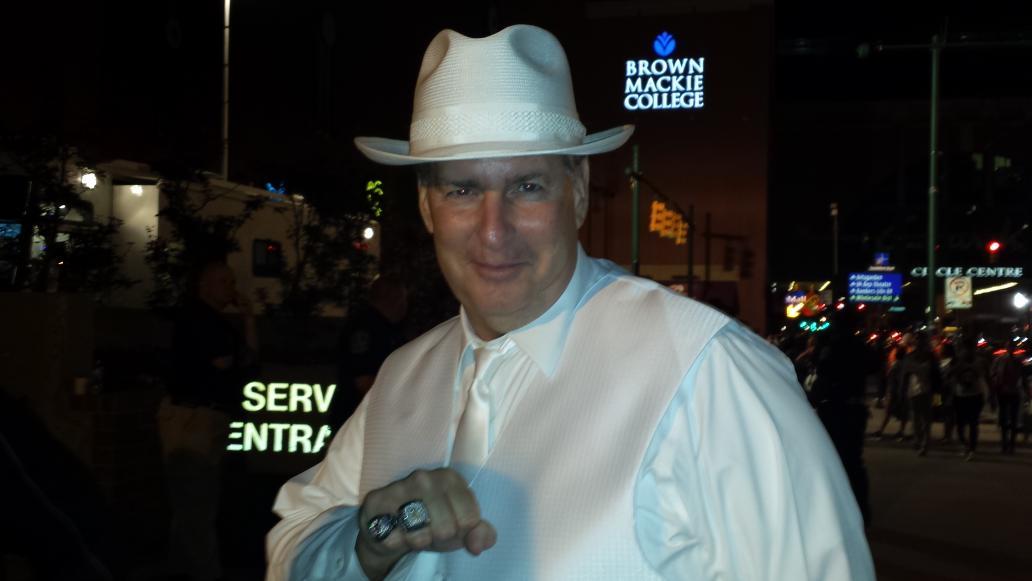 Mayor Lil Greg showing off his bling for Black Expo's All White Party. Is that the Super Bowl ring he received as a gift thanks to the $50 million Indianapolis taxpayers spent hosting the 2012 Super Bowl? (Photo/Amos Brown)
Some folks are busy patting themselves on the backs for a lack of violence at this year's Indiana Black Expo Summer Celebration. I arrived back in town late Saturday night after attending a wedding out-of-town. As I drove through the heart of downtown Indianapolis about 11:00 p.m., I found a frightening scene--a full-blown military police state in place with more uniformed police officers than visitors downtown and an army of police cruisers, tactical vehicles, mobile command centers and other toys of the police state lining the streets of downtown Indianapolis. There was nothing inviting about the scene; it was a place to be avoided at all costs. Downtown businesses most assuredly saw little business on what should be a bustling summer weekend but for this event taking place annually downtown. Taxpayers no doubt shelled out hundreds of thousands of dollars in overtime pay to have nearly a third of the City's entire police force patrolling downtown at a time the administration claims it lacks funding to hire enough police officers to safely patrol the city. While the police were patrolling downtown,
three men were shot
in another shooting near 33rd Street and Washington Blvd. on the City's north side.
There's another event that takes place annually every June on the American Legion mall that draws more than 50,000 people crammed into one small area where alcohol is served and live stage music is performed. IMPD is so content that the gay revelers and their straight supporters who attend the Indy Pride Fest and Parade won't cause any crime-related problems that the department doesn't even bother to dispatch more than a handful of police officers to direct traffic in the area packed with residents and out-of-town visitors. Rarely are any arrests made during the event. The City of Indianapolis subsidizes the organization that sponsors Summer Celebration, which is chaired by Greg Wilson, a city employee in charge of doling out minority contracts for Mayor Ballard's administration, but Indy Pride has never received a single tax dollar as it continues to grow and contribute substantially to downtown tourism the weekend it is held annually. What's wrong with this picture, Mr. Mayor? If you're so concerned about building a vibrant downtown, why do you allow an event to be hosted annually that costs so much to patrol and causes visitors to avoid downtown like the plague?