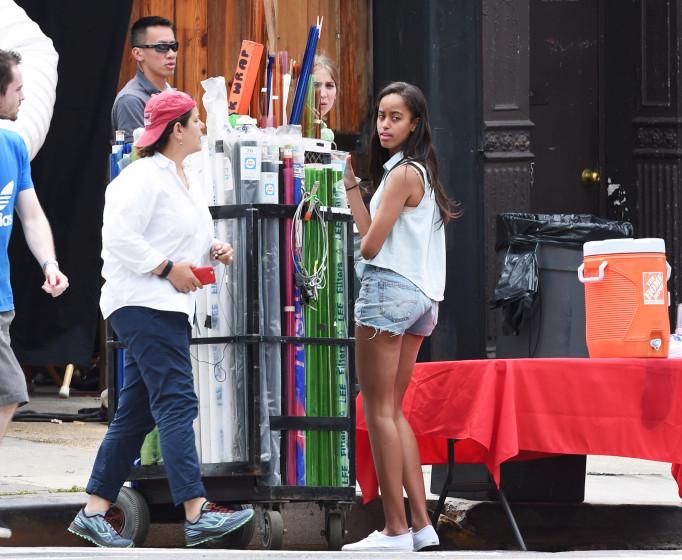 Malia Obama on the set of Girls (AP Photo)
The TMZ headline says "
Cool Teen Malia Obama Is A Girls Intern
." Yes, it's true, TMZ said in reprise to a "Page Six" mention of Malia being sited on the
Girls
set in Williamsburg. "America's First Teen, Malia Obama, is interning this summer for Lena Dunham on the set of
Girls
, TMZ reported. The
Parents Guide
for the show indicates it "shows various kinds of sexual intercourse and nudity both female and male." In fact, virtually every episode of the show which first aired on HBO in 2012 has contained nudity, if not graphic sex scenes, including some featuring discredited NBC News Anchor Brian Williams' daughter,
Allison Williams
.
Last fall, National Review featured a highly critical piece by Kevin Williamson, "
Pathetic Privilege
," in which he gives you a pretty clear picture of what the Planned Parenthood spokesperson, Lena Dunham, is all about:
Lena Dunham is fond of lists. Here is a list of things in Lena Dunham's life that do not strike Lena Dunham as being unusual: growing up in a $6.25 million Tribeca apartment; attending a selection of elite private schools; renting a home in Hollywood Hills well before having anything quite resembling a job and complaining that the home is insufficiently "chic"; the habitual education of the men in her family at Andover; the services of a string of foreign nannies; being referred to a homework therapist when she refused to do her homework and being referred to a relationship therapist when she fought with her mother; constant visits to homeopathic doctors, and visits to child psychologists three times a week; having a summer home on a lake in Connecticut, and complaining about it; writing a "voice of her generation" memoir in which ordinary life events among members of her generation, such as making student-loan payments or worrying about the rent or health insurance, never come up; making casual trips to Malibu; her grandparents' having taken seven-week trips to Europe during her mother's childhood; spending a summer at a camp at which the costs can total almost as much as the median American family's annual rent; being histrionically miserable at said camp and demanding to be brought home early; demanding to be sent back to the same expensive camp the next year.
That's the least offensive of what Williamson wrote about Dunham, who wrote in a book,
Not That Kind of Girl: A Young Woman Tells You What She's Learned
from which she earned a $3.5 million advance from Random House to write, about sexually abusing her younger sister, Grace, while her sister was a toddler:
If there is such a thing as actually abusing a child through excessive generosity and overindulgence, then Lena Dunham's parents are child abusers. Her father, Carroll Dunham, is a painter noted for his primitive brand of highbrow pornography, his canvases anchored by puffy neon-pink labia; her photographer mother filled the family home with nude pictures of herself, "legs spread defiantly." Self-styled radicals from old money, they were not the sort of people inclined to enforce even the most lax of boundaries. And they were, in their daughter's telling, enablers of some very disturbing behavior that would be considered child abuse in many jurisdictions — Lena Dunham's sexual abuse, specifically, of her younger sister, Grace, the sort of thing that gets children taken away from non-millionaire families without Andover pedigrees and Manhattanite social connections. Dunham writes of casually masturbating while in bed next to her younger sister, of bribing her with "three pieces of candy if I could kiss her on the lips for five seconds . . . anything a sexual predator might do to woo a small suburban girl I was trying." At one point, when her sister is a toddler, Lena Dunham pries open her vagina — "my curiosity got the best of me," she offers, as though that were an explanation. "This was within the spectrum of things I did."
Dunham said she summoned her mother after discovering pebbles inside her one-year old sister's private part when her 7-year old curiosity got the best of her, which she suggested the toddler (now a grown lesbian) had done as a prank. Dunham
angrily reacted
to unflattering interpretations of the book's passage on her Twitter account, sprinkled with frequent use of the "F" word.
Dunham also came under attack for another passage in her book in which she accused "a campus conservative" named Barry at Ohio's Oberlin College where she studied of sexually assaulting her after a night of partying that included taking cocaine and Xanax because he tossed aside a condom she supposedly insisted her wear during sex. She also accused "Barry" of having a violent sexual encounter with one of her classmates that left blood spattered on the walls "like a crime scene." Neither incident was reported to police at the time, although local law enforcement reportedly opened an investigation after the book's claims surfaced because the statute of limitations had not yet run. Under a threat of a lawsuit by the man Dunham unmistakably described in her book and a Breitbart investigative report throughly discrediting the book's accounts, Random House
agreed to alter the passage
to avoid association with the man against whom she apparently made false allegations. The accused man, who is the
son of a former host of NPR's "All Things Considered,"
is actually a Democrat.
Young Conservatives tweeted, "UGH!", in reaction to news Malia Obama is interning for Dunham. TMZ responded to the tweet: "You have to be
prettyyy
cool to have important career opportunities like this." Yeah, right. How many 17-year girls get a front-row seat watching a sleazy Hollywood writer, director and producer make porn? Malia must have really cool parents to allow her that opportunity.
UPDATE: Us Magazine thinks Malia''s summer job is
a real cool gig
as well:
Talk about a great summer gig! Malia Obama landed the dream internship of a lifetime this summer — working with Lena Dunham on the set of HBO's hit series Girls.
"She's a fan, and she mentioned that to Lena [Dunham] when she came to the White House," a source close to the production told Us Weekly. "I'm not sure how long she'll be interning for. It's a bit of a trial thing for her. They've known each other and discussed for a while. Lena and her get along great."
So Malia told Dunham she was a fan of her show when she came to the White House. I dont' know which is more disturbing: that she's a fan of the show or Dunham was a guest at the White House. Check out this NSFW clip of scenes from the series if you doubt those who aren't fans of the show.