When police released the lengthy rap sheet detailing dozens of arrests involving the 16-year old accused of gunning down Nathan Trapuzzano on West 16th Street during the early morning hours of April 1, it seemed inexplicable that Simeon Adams could have been loose roaming the streets to commit even more crimes. Yet somehow he was. Today, we learn from an
Indianapolis Star report
that a probation officer assigned to keep track of Adams while he was supposedly on home detention awaiting an April 7 juvenile court probation hearing on 13 probation violations, including nine violations of his house arrest, has resigned in the wake of Adams' arrest earlier this week.
According to the Star's John Tuohy, Adams' probation officer could have requested an arrest warrant be issued against him after he committed his third house arrest violation on February 15 when he was not found at home during the probation officer's visit to his home. Adams could have been placed in detention at the juvenile detention center on the City's east side. Tracy McDonald, the probation officer in question, waited until March 5 to report Adams after his ninth house arrest violation. "And even then, McDonald recommended that Adams remain on house arrest until his April 7 probation hearing," Tuohy reports. The other three probation violations that occurred between February 11 and March 4 were for getting suspended from school and failing to participate in court-ordered programs.
Marion County's presiding judge, David Certo, confirmed to the Star that McDonald resigned his job yesterday, the same day that Adams made his first appearance in adult court to face charges related to the shooting death of Trapuzzano. The judge in charge of Marion County's juvenile court, Marilyn Moores, told Tuohy that she had "complained vociferously" about McDonald's failure to request Adams' arrest in light of the repeated probate violations. "I expressed my extreme concern to probation (department) about the handling of this case," Moores said. "When I saw there had been nine violations I was very concerned and upset." She told the Star that probation officers typically notify the court after three violations. "That wasn't done here, I don't know why," Moores said, adding that she had never seen an officer wait until nine violations before reporting it to the court.
McDonald has worked as a probation officer since 1994 according to the Star. McDonald's superiors in the probation department refused to respond to the Star's request for comment on his resignation, as did Marion County Prosecutor Terry Curry. Adams' April 7 hearing relates to a December 13 arrest for stealing a woman's car at a gas station and fleeing police. During the chase, Adams tossed a stolen gun, and when police arrested him he had marijuana in his possession. Curry's office later dropped the drug and gun charges and charged Adams with auto theft and resisting arrest.
The media continues to show little interest in the look-out accomplice who aided Adams in the April 1 shooting death of Trapuzzano who the prosecutor's office has declined to prosecute. Although local media has not identified him, the Daily Mail identified him as a 16-year old named Martez "Duh Duh" McGraw. Media reports indicate that Adams' accomplice had charges pending against him stemming from an arrest in February for felony gun charges and resisting arrest. Surveillance video showing the break-in of a gun store on Crawfordsville Road last month showed two black youths committing the break-in that resulted in the theft of $13,000 worth of guns. Police have told the media they believe Adams was one of the youths who committed that break-in. They have not identified who the second suspect was, although he matches the description of Adams' accomplice in the Trapuzzano shooting. The Daily Mail identified McGraw as also being with Adams during a confrontation with Erick Douglas when police allege that Adams fired three shots from a gun at Douglas, hitting him twice. Here's the timeline provided by the
Daily Mail
:
THREE DAYS OF MAYHEM AND MURDER
Court documents provide a chilling account of the danger Adams inflicted on the community over a three-day period:
March 30: Simeon 'Red' Adams and Martez 'Duh-Duh' McGraw confront Erick Douglas and his brother outside steak house after Douglas 'bumped into' Adams. Adams shoots him three times - hitting him once in the groin and once in the left leg
April 1, 5.50am Adams and McGraw spot Nathan out for morning stroll. They ambush him and make his strip. As he goes to take off his pants and reaches for his shoes, he is shot once in the abdomen. Surveillance footage shows Nathan pleading for help. He dies later.
April 1, morning: Adams allegedly confesses to friend that he shot Nathan because 'white man tried to tussle with me'.
April 1, 11.30pm: Adams is shot in the neck and taken to hospital
April 8: Adams is arrested and charged.
If the Daily Mail account is accurate, McGraw was with Adams during both shootings. Yet Marion County Prosecutor Terry Curry is not charging him in either case. I've said it before and I'll say it again. My hunch tells me that McGraw has been acting as an informant for IMPD. If that's the case, then I repeat that someone has a lot of explaining to do, whether that's IMPD, the Prosecutor or someone else. If McGraw was also the accomplice in the gun store robbery, then my concerns are even further heightened. Just why was McGraw roaming the streets freely with Adams given his February arrest on felony gun charges? And just how did the Daily Mail, a British tabloid, manage to obtain more information about this case early on before our crack local reporters? Here's what WTHR
reported
on the prosecutor's decision not to charge Adams' accomplice:
Alhough police initially identified a second suspect in surveillance video from the murder scene on West 16th Street, only Adams faces charges. Prosecutors know who the second person is - another 16-year-old. They've declined to file charges against him.
"They want to use him at the trial of Mr. Adams," said criminal defense attorney and former prosecutor Jack Crawford. He says even though the second teen was feet away when the murder took place, prosecutors likely have decided to use him as a key witness rather than charge him with a crime.
"Clearly he knows who he's talking about. He was nine feet away. If he's telling the truth; if he's telling the truth, mind you,then he's a very important witness for the state," said Crawford. That 16-year-old faces felony gun and resisting law enforcement charges stemming from a separate incident in February.
More troubling is a report by the Ten Point Coalition's Rev. Charles Harrison about an encounter he had with Adams and more than a dozen other teen-agers loitering at a Marathon gas station on March 30, two days before the Trapuzzano shooting. When he and volunteers approached Adams and the other youth and asked them to leave the property, a confrontation ensued. Harrison and his volunteers noticed that Adams and the other youth appeared to be armed with guns. Harrison told local reporters that he contacted 911 to report the incident. "We called 911 because we wanted to alert the police that this young man and some of the other young men that was with him had guns on them," Harrison
told WRTV
. That's the same day police say that Adams shot another man, Erick Douglas, in a dispute outside a steak house on MLK Drive. Harrison tweeted about shooting taking place in this area but indicated that no one was hurt. "A little after 8pm 7 shots were fired at 29th & MLK, Harrison tweeted on March 30. "Teenagers were shooting at each other, but no one was injured." Harrison posted a picture of the restaurant showing police cars in the parking lot. "There is a teenager gang problem n UNWA," Harrison tweeted. "These teenagers have guns on them."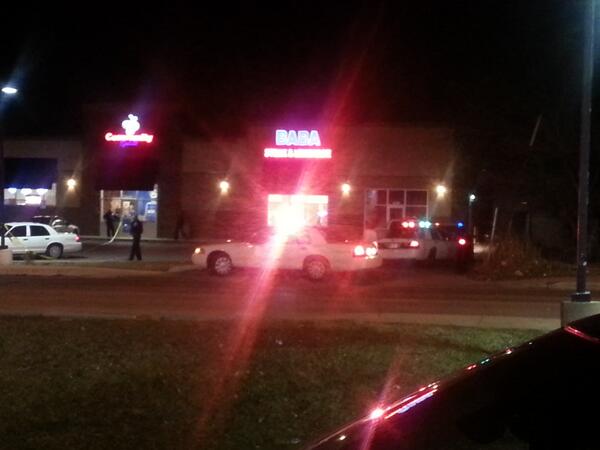 On April 1, the same day that Trapuzzano was gunned down by Adams, the Indianapolis Star's Matt Tully ran a column spotlighting Rev. Harrison's work combating crime in an article titled, "
Charles Harrison shines the truth on Indy violence
." A picture that accompanied the column showed Harrison at the same Marathon gas station where he had his confrontation with Adams on March 30. "Every once in a while, when I'm trying to make sense of the violence in our city, I turn to the Rev. Charles Harrison," Tully wrote. "A crime-fighting truth-teller who is just as comfortable talking to gang members on the streets as he is talking to parishioners in church or followers on Twitter, Harrison has done more than just about anyone in recent years to shine a spotlight on the toll crime takes on many neighborhoods."
Last February, a story that almost seems forgotten, federal, state and local law enforcement officers participated in a
raid on the home of the Ten Point Coalition's street outreach coordinator
, Byron Alston, an
ex-offender on probation
with close ties to Mayor Greg Ballard who has had trouble himself with complying with the terms of his probation. IMPD Chief Rick Hite was called out for
inappropriately interjecting himself
into Alston's probation hearing by writing a letter of support to the court.
Fox59 News' Russ McQuaid reported at the time that Alston claimed that investigators seized his computer and financial records of the "Save the Youth" organization dating back to 2007 in an apparent search for his funding sources. Marion Co. Prosecutor Terry Curry confirmed to McQuaid at the time that a search warrant had been executed on Alston's home. The Ten Point Coalition has been the recipient of crime prevention grants provided by the City of Indianapolis. Alston told McQuaid that law enforcement searched his home for money. Alston claimed that investigators raised a figure of $3 million with him during the raid and asked him if he had been offered $3 million by an unnamed Republican. Alston claimed he was also asked about an extortion attempt and being asked by another ministerial group to split the money with them. Nothing further has been reported on that raid since that initial report.
UPDATE: The fired probation officer, Tracy McDonald,
spoke to Fox59 News
and indicated that he believed he was being unfairly singled out for the blame. "He said any perceived failure, shouldn't only be blamed on him." "He said he felt forced out and believes that someone else should take the fall for it, too." "That's all I'm going to say, yes," McDonald told FOX 59. "McDonald did not have many comments but said he was looking into hiring an attorney in the matter."
According to Fox59 News, both Moores and a magistrate signed off on the initial order setting Adams' probation hearing for April 7. The contention is that McDonald should have notified the court after Adams' third violation on February 15; instead, he waited until March 5. That's still more than a month before his scheduled hearing in April. The court seems to blame McDonald because he didn't request that Adams' home detention be cancelled upon reporting his repeated probation violations to the court on March 5. The question seems to turn on whether the court on its own should have reached the conclusion that an arrest warrant should have been issued for Adams' arrest without prompting by the probation officer.