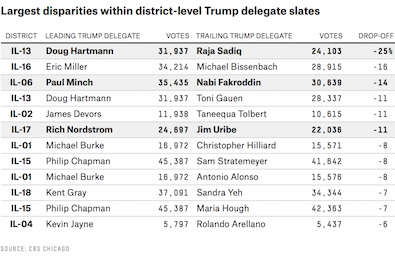 In the Illinois presidential primary yesterday there were two separate races in the presidential race. Voters cast a vote for the candidate of their choice in the beauty contest, and they cast votes in the more critical race for convention delegates. Each candidate fields three candidates for delegate in each of the state's 18 congressional districts pledged to support their candidate at the national nominating convention.
While Trump carried virtually every congressional district in Illinois, some of his delegate candidates lost to either a Cruz or Kasich delegate. Less-experienced voters sometimes overlook the delegate race after casting their vote in the beauty contest, but in some instances it appears that the Trump's campaign to field diverse delegates may have cost his campaign several delegates.
A political observer at
fivethirtyeight.com
took notice of the fact that Trump delegates with noticeably foreign-sounding names received significantly fewer votes than Trump delegates with more Anglo-sounding names.
In the western Chicago suburbs, a Trump delegate candidate named Nabi Fakroddin received 14 percent fewer votes than a member of the same Trump slate named Paul Minch. In southern Illinois, a would-be Trump delegate named Raja Sadiq received an eye-popping 25 percent fewer votes than a slate-mate named Doug Hartmann. And in a rural western Illinois district, a losing Trump delegate named Jim Uribe received 11 percent fewer votes than one named Rich Nordstrom. In all three cases, the disparity appeared to cost Trump a delegate . . .
Of the seven Trump delegate candidates with minority or foreign-sounding names, all seven were among the dozen worst-trailing Trump candidates in the state: Sadiq, Fakroddin, Tolbert, Alonso, Uribe, Sandra Yeh and Rolando Arellano. The 47 Trump delegate candidates with Anglo-sounding names tended to garner far more votes.
The point of the article seems to imply that Trump voters discriminate against people whose names sound a little too ethnic, not giving Trump credit for seeking diversity among his delegates. I distinctly recall when two of Adlai Stevenson's running mates in his Illinois gubernatorial campaign in his 1986 Illinois gubernatorial campaign lost to Lyndon LaRouche-supported candidates in the Democratic primary because their names sounded a bit too ethnic. Stevenson's lieutenant governor candidate, George Sangmeister, lost to political unknown Mark Fairchild, while Secretary of State candidate Aurelia Pucinski lost to a political gadfly named Janice Hart. The embarrassing fiasco forced Stevenson and the rest of the party-backed candidates to leave the Democratic ticket and run as third party candidates. They still lost to the Republican-led ticket of Gov. James Thompson.
Notwithstanding the hiccup, Trump's campaign still waked away with more than 50 of Illinois' 69 delegates up for grabs, helped in part by the 15 bonus delegates he won by carrying the statewide beauty contest. Cruz picked up just 9 delegates, and Kasich went home with 5 delegates. The participation fall-off in the delegate race by Trump voters likely contributed to Cruz and Kasich winning delegates in congressional districts they lost to Trump as well.