UPDATED: FEREBEE KNEW FROM DAY ONE!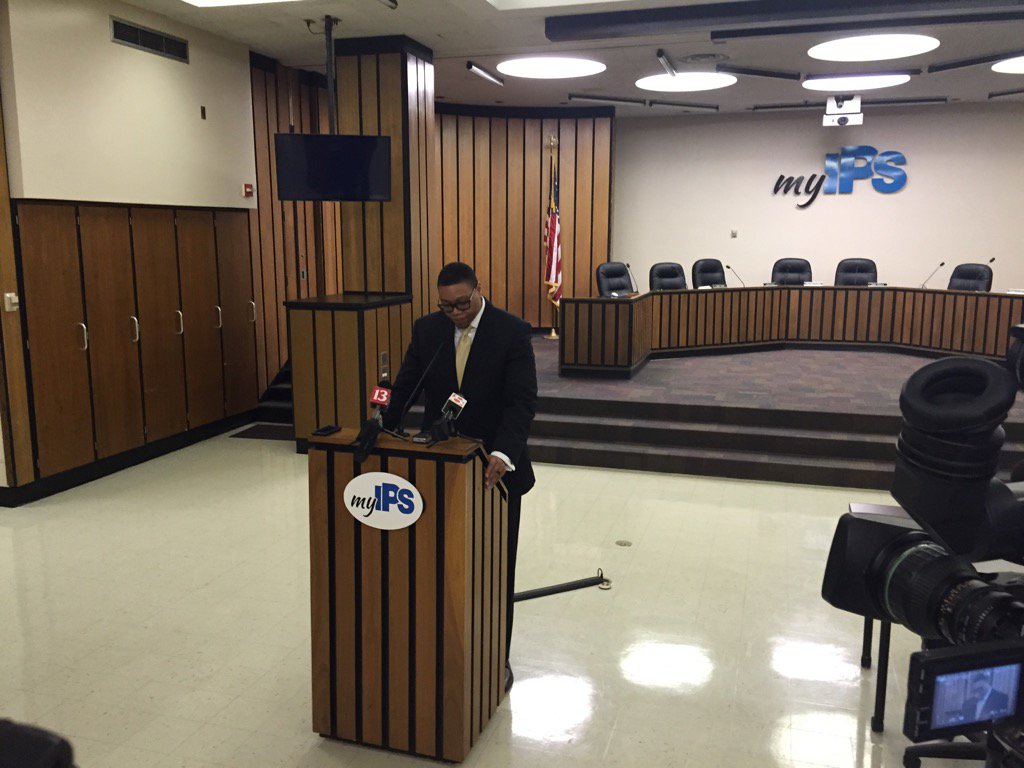 Dr. Louis Ferebee addressing reporters (WRTV Photo)
IPS Supt. Dr. Lewis Ferebee just concluded a live press conference with area media to address school administrators' failure to follow state law and report immediately to the Department of Child Services once school officials learned that an IPS counselor, Shana Taylor, had engaged in sex with students of Longfellow Alternative School. Instead, those school officials waited six days after learning of the sexual relationship between Taylor and at least one student from a parent, who discovered graphic photos and text messages exchanged between Taylor and the student. Dr. Ferebee blamed "incompetent staff" for failing to timely report the abuse to state child welfare workers. "I'm very disappointed by the incompetence of our employees," Dr. Ferebee said.
According to Dr. Ferebee, all involved assumed someone else was taking care of the reporting requirement as they went about ensuring that Taylor had no further contact with students after learning from the parent of her extracurricular activities on February 17. At least four school officials have been identified in court papers as having knowledge of the child abuse, including Longfellow Alternative School Principal Mark Cosand and Assistant Principal William Jensen, Director of Student Services Deb Lesor, Human Resources Director Tina Hestor, and human resources case worker Shalon Dabney. School officials became aware of the failure to report in compliance with the law five days later on February 22, at which time the assistant principal prepared a report; however, that report did not get transmitted to DCS until a day later, or at least six days from the day school officials learned of Taylor sexually abusing a student.
A reporter attempted to ask Dr. Ferebee when he first learned of the allegations against Taylor. Dr. Ferebee started to respond that he learned of it when Taylor was being interviewed by school officials about the allegations. The school's press spokesperson, Kristin Cutler, cut off reporters from further questions when they tried to pin Dr. Ferebee down to the date he learned of those allegations. Dr. Ferebee assured reporters that every employee with knowledge of the facts, all of whom he said acknowledged their awareness of both the state's and the school's policy for timely reporting allegations of child abuse, would be appropriately disciplined for their failure to comply with state law and school policy. The school board is scheduled to meet later this afternoon and discuss the matters during an executive session at 5:00 p.m. School officials who failed to comply with the state law could face criminal charges for their neglect of the law.
UPDATE: The Indianapolis Star is
reporting
that Cutler confirmed following today's press conference that Dr. Ferebee was among those IPS employees who knew about the allegations against Taylor on February 17, the first day IPS officials became aware of the allegations:
Indianapolis Public Schools Superintendent Lewis Ferebee publicly criticized five employees Friday for failing to immediately report suspected child abuse to authorities — a delay that violated state law and the district's own policies. "This is a clear case of incompetence," he said.
Yet, a school spokeswoman confirmed to IndyStar that Ferebee himself learned of the allegations on Feb. 17, but also did not report them to the Indiana Department of Child Services.
The only thing that remains to be done is for IPS to fire Ferebee and other employees who ignored state law and school policy. It's just that simple. It is shocking those policies could not have been foremost in their minds given recent events that transpired at Park Tudor. This is just inexcusable. Ferebee should have included himself in his criticism that IPS employees were incompetent.