Marion Co. Auditor Julie Voorhies
At last, there is one elected official left in Indianapolis City-County government who still believes in the rule of law. Marion Co. Auditor Julie Voorhies
filed a lawsuit
against Blue Indy, LLC, the City of Indianapolis and Regions Bank to block payment of $6 million the Ballard administration illegally transferred into a trust account for Blue Indy's benefit in fulfillment of a contract, under which Mayor Greg Ballard's administration broke numerous state and local laws to enter into with the French-owned company. The case filed by Voorhies, a Democrat, has been assigned to Marion Superior Court P.J. Dietrick's court, a Republican judge who formerly sat as a member of Marion County Election Board prior to running for judge.
The Indianapolis Business Journal is reporting the case was filed in the Marion Circuit Court; however, the state's court system is showing the case filed in Civil Court No. 12 as 49D12-1510-PL-035457. According to the IBJ, the complaint seeks to halt payment of the $6 million being held in trust by Regions Bank for Blue Indy's benefit and any additional construction of power charging stations on city-owned property for use by Blue Indy's electric car sharing business, a 15-year monopoly business Mayor Ballard awarded to the company without undertaking any competitive bidding process or without council approval. The lawsuit seeks a declaratory judgment that the contract entered into with Blue Indy is illegal.
"Not only did the city fail to publicly bid the $6 million BlueIndy construction project, but the city also failed to obtain the necessary budget appropriations from the City-County Council and circumvented the approval of the Marion County auditor in issuing payment to BlueIndy," according to a press release from the auditor's office.
The Marion County Auditor should be praised by all Indianapolis taxpayers for having their backs. That's more than can be said for any other elected officials or the Democratic and Republican mayoral candidates, both of whom applauded the illegal deal and indicated they would enforce what is so clearly an illegal contract should either be elected mayor. All evidence points towards there being a corrupt motivation for breaking so many laws to enter into the agreement, making it all the more outrageous that Joe Hogsett, a former federal prosecutor, finds nothing wrong with so many laws being broken in order to steal tens of millions of dollars in public assets from Indianapolis taxpayers. So much for Hogsett's phony campaign meme about his plan to put a stop to "downtown insiders," whom he accuses in campaign ads of "cheating the system" and "stealing our tax dollars."
The Indianapolis media has completely fallen down on their job in reporting on this major public corruption scandal, which not only results in the theft of tens of millions of dollars in city assets, but which also poses a great risk to the public. Blue Indy is pawning off on Indianapolis residents an electric car sharing system that other countries in the European Union refused to allow to be operated in their countries. The billionaire owner of Blue Indy, Vincent Bollore', was only able to convince his home country of France to buy into the system. Bollore came to Indianapolis after he was first turned down by San Francisco officials.
The electric charging stations rolled out across the city are
not UL-certified
and potentially pose a risk of harm or death to people who use the electric cars charged by those power charging stations in the event of a malfunction. Even more concerning is the fact that the cars themselves have never been approved by the National Highway and Traffic Safety Administration for use on American highways. Bollore was allowed a waiver to import the cars for demonstration purposes only. News reports indicate that a number of the electric cars in use in Paris have caught fire and burned since they began operating. Bollore publicly blamed the burning cars on vandals. These facts have been completely ignored by other public officials and the media. Apparently the two candidates for mayor and the media are more interested in protecting the corrupt local business insiders who stand to make a lot of money off the one-sided deal with Blue Indy than the general public.
To view the text of the complaint, click this link
here
to view a copy made available by WTHR-TV.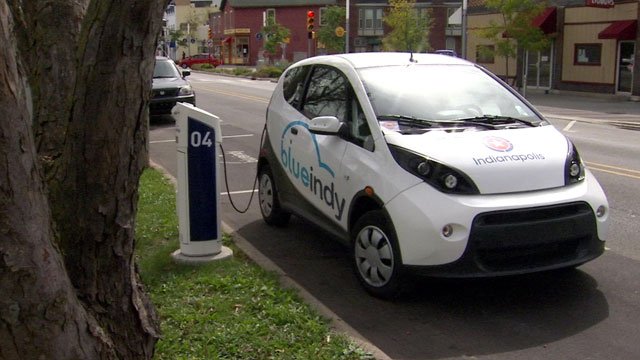 Check out this free advertising the Ballard administration is giving Blue Indy using our tax dollars on our local public access TV station, WCTY.